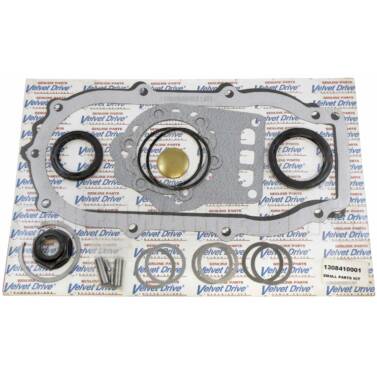 Velvet Drive Transmission Gasket & Seal Kit 71C 72C V-Drives 1308-410-001
By
Velvet Drive
| | |
| --- | --- |
| Part # | 1308-410-001 |
| Warranty | 1 Year |
| Made In | United States |
| Shipping Wt | 2 lbs |
$87
.10
US
Free Shipping to the Lower 48 US States
Out of stock
Notify when in stock

Product Description
New gasket and seal kit for Velvet Drive and Borg Warner 71C and 72C V-Drive marine boat transmissions. This is a genuine OEM kit from Velvet Drive, part number 1308-410-001 (1308410001). Comes with new seals, gaskets, o-rings, shims, dowel pins, bearing retainer snap ring, and output locking nut. Fits all 71C and 72C V-Drives. Does not work with 5000 or Liberty series.
This gasket and seal kit is only for the V-Drive half and does not include gaskets and seals for the front transmission half. If you need the gasket and seal kit for the front half, please also purchase the
A4867HA
kit in addition to this 1308-410-001 kit.
View the below charts for V-Drive applications.
10-04-000-002
10-04-000-003
10-04-000-004
10-04-000-005
10-04-000-006
10-04-000-007
10-04-000-008
10-04-000-009
10-04-000-010
10-04-000-011
10-04-000-012
10-04-000-013
1004-000-002
1004-000-003
1004-000-004
1004-000-005
1004-000-006
1004-000-007
1004-000-008
1004-000-009
1004-000-010
1004-000-011
1004-000-012
1004-000-013
1004-002
1004-003
1004-004
1004-005
1004-006
1004-007
1004-008
1004-009
1004-010
1004-011
1004-012
1004-013
10-05-000-002
10-05-000-003
10-05-000-004
10-05-000-005
10-05-000-006
10-05-000-007
10-05-000-008
10-05-000-009
10-05-000-010
10-05-000-011
10-05-000-012
10-05-000-013
1005-000-002
1005-000-003
1005-000-004
1005-000-005
1005-000-006
1005-000-007
1005-000-008
1005-000-009
1005-000-010
1005-000-011
1005-000-012
1005-000-013
1005-002
1005-003
1005-004
1005-005
1005-006
1005-007
1005-008
1005-009
1005-010
1005-011
1005-012
1005-013
13-08-410-002
13-08-410-003
13-08-410-004
13-08-410-005
13-08-410-006
13-08-410-007
13-08-410-008
13-08-410-009
13-08-410-010
13-08-410-011
13-08-410-012
13-08-410-013
1308-410-002
1308-410-003
1308-410-004
1308-410-005
1308-410-006
1308-410-007
1308-410-008
1308-410-009
1308-410-010
1308-410-011
1308-410-012
1308-410-013
$87
.10
US
Free Shipping to the Lower 48 US States
Out of stock
Notify when in stock

Product Specifics
| | |
| --- | --- |
| Brand | Velvet Drive |
| Made In | United States |
| Item Weight | 0.9 lbs |
| Manufacturer | Velvet Drive |
| Manufacturer # | 1308410001 |
| Part # | 1308-410-001 |
| Product Type | Boat Transmission Gasket Kit |
| Shipping Dims | 16" x 11" x 1" |
| Shipping Wt | 2 lbs |
| UPC | 443590333422 |
| Warranty | 1 Year |
Customers Also Viewed
Most Popular in Transmissions & Parts