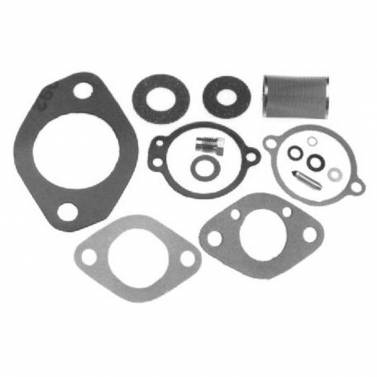 Sierra 18-7021 Carburetor Kit Mercury Mariner Outboard WM 16 17 23 WMD 1 WMK 1 2
By
Sierra
| | |
| --- | --- |
| Part # | 18-7021 |
| Warranty | Limited Lifetime |
| Made In | Brazil |
| Shipping Wt | 0.2 lbs |
$22
.41
US
Free Shipping
to the Lower 48 US States
(See all shipping options in cart)
20+ in stock


Pay in 4 interest-free payments with

Product Description
Sierra 18-7021 carburetor kit for Mercury/Mariner WM & WMK. Contains carburetor flange gasket 18-2572, carburetor mounting gasket 18-2802, strainer cover gasket 18-2570, carburetor bowl gasket 18-2575, filter cover gasket 18-2569, and strainer cover screw gasket 18-2568.
Part Number Cross Reference
GLM 40480
Tillotson WM-16, WM-17
Walbro WM-23, WMD-1, WMK-1, WMK-2, WMK-3, WMK-4, WMK-5, WMK-7, WMK-8, WMK-9, WMK-10, WMK-11, WMK-12, WMK-13, WMK-14, WMK-15, WMK-18, WMK-19, WMK-20, WMK-21, WMK-22, WMK-24, WMK-25, WMK-26, WMK-27, WMK-28, WMK-29, WMK-30, WMK-31, WMK-32, WMK-35, WMK-36, WMK-38, WMK-39, WMK-40, WMK-41, WMK-41-1A, WMK-41-1B, WMK-41-3A, WMK-41-3B
About Sierra
Sierra provides premium-quality aftermarket replacements for over 6,000 marine parts, tools, and components. Sierra products are engineered to meet or exceed OEM standards, and stand up in harsh marine environments. Every new Sierra part comes with a limited lifetime warranty that covers the useful life of the product against any defects in workmanship and materials.
$22
.41
US
Free Shipping
to the Lower 48 US States
(See all shipping options in cart)
20+ in stock


Pay in 4 interest-free payments with

Product Specifics
| | |
| --- | --- |
| Brand | Sierra |
| Made In | Brazil |
| Item Weight | 0.1 lbs |
| Manufacturer | Sierra |
| Manufacturer # | 18-7021 |
| Part # | 18-7021 |
| Product Type | Carburetor Kit |
| Shipping Dims | 10" x 6" x 2" |
| Shipping Wt | 0.2 lbs |
| UPC | 030999320728 |
| Warranty | Limited Lifetime |
Customers Also Viewed
Most Popular in Outboard Parts