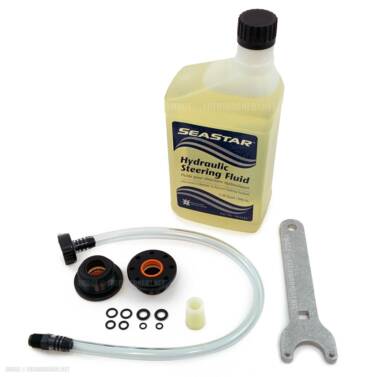 SeaStar Cylinder Reseal Kit HS5157 HA5430H HA5438 Oil Fill Tube Teleflex Marine
By
SeaStar Solutions
| | |
| --- | --- |
| Part # | HS5157, HA5430H, HA5438 |
| Warranty | 2 Year |
| Made In | Canada |
| Shipping Wt | 4 lbs |
$183
.39
US
Free Shipping
to the Lower 48 US States
(See all shipping options in cart)
20 in stock


Pay in 4 interest-free payments with

Product Description
New SeaStar Solutions complete reseal kit for front mount SeaStar Solutions (Teleflex Marine) cylinders. Used to repair leaking or weeping cylinder seals. This kit comes complete with HS5157 seal and spanner wrench set, HA5430H fluid quart, and HA5438 fill tube. Instructions included.
Compatible Cylinders
HC5340, HC5341, HC5342, HC5342-3, HC5343, HC5344, HC5345, HC5345-3, HC5346, HC5347, HC5347-3, HC5348, HC5348-3, HC5358, HC5358-3, HC5365, HC5375, HC5394, HC5445, HC6345, HC6345-3, HC6750, HC6751, HC6752, HC6753, HC6754, HC6755
Note: Please make sure your cylinder shaft is not pitted or corroded. A damaged cylinder shaft may still leak even with new seals.
View full replacement cylinders here
if you need a whole new cylinder.
Teleflex Marine is now SeaStar Solutions. Seal kit part number HS5157 (HS-5157).
$183
.39
US
Free Shipping
to the Lower 48 US States
(See all shipping options in cart)
20 in stock


Pay in 4 interest-free payments with

Product Specifics
| | |
| --- | --- |
| Brand | SeaStar Solutions |
| Made In | Canada |
| Item Weight | 2.4 lbs |
| Manufacturer | SeaStar Solutions |
| Manufacturer # | HS5157, HA5430H, HA5438 |
| Part # | HS5157, HA5430H, HA5438 |
| Product Type | Boat Steering Seal Kit |
| Shipping Dims | 12" x 8" x 5" |
| Shipping Wt | 4 lbs |
| UPC | 491546000782 |
| Warranty | 2 Year |
Customers Also Viewed
Most Popular in Steering & Controls