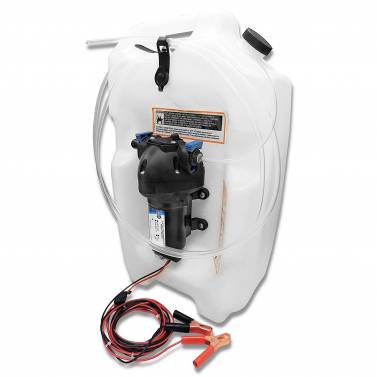 Jabsco 17860-2012 Marine Do-It-Yourself Boat Engine Oil Change System 12V Flat
By Jabsco
| | |
| --- | --- |
| PART # | 17860-2012 |
| WARRANTY | 1 Year |
| MADE IN | China |
| SHIPPING WT | 11 lbs |
| SHIPPING DIMS | 20" x 12" x 12" |
$153.76
Free Shipping
to the Contiguous 48 US States
(See all shipping options in cart)
5 in stock
Secured by:

Product Description
New Jabsco "Do It Yourself" marine engine oil change system. Model 17860-2012. Allows for easy and quick oil changes through engine dip stick tube.
Specifications
Pump Body: Polypropylene
Diaphragm: Geolast, oil resistant
Valves: Viton, oil resistant
Motor: 12V DC with integral power switch
Amp draw: 2A
Fuse size: 5A
Receiver: Plastic with 3.5 Gal (13.2L) maximum capacity tank
Battery Leads: 6 ft (1.8m) with alligator clips
Suction Tube: 8 ft (2.4m), oil & heat resistant
Weight (empty): 7 lb (3.17 Kg)
Operating Instructions
1.
Run the engine for approximately 5 minutes to heat oil to approximately 160 degrees F (71 degrees C), then shut off engine prior to oil removal.
2.
Insert 1/4" (6mm) tube into pump inlet port and be sure that it is securely in place.
3.
Open the vent cap located on hose retainer strap, vent cap must be opened to allow tank to vent air.
4.
With the pump switch in the off position (to avoid sparks), clamp the power-leads' alligator clips to a 12V DC battery (red to positive, black to negative).
5.
With the engine off, remove the dipstick, and insert the 1/4" (6mm) oil change probe through the dipstick tube until it contacts the bottom of the oil pan. It may help to measure the probe against the dipstick, add an inch and mark the probe. Do not push the probe too far into the dipstick tube or it may curl up and out of the oil. It may be useful to tape the probe in place during evacuation.
6.
To evacuate the oil, switch on the pump using the rocker switch at the rear of the motor. Watch for flow in the probe. If no flow appears in 15 seconds, check the probe for sediment blockage. Clean the probe and reset it 1/4" (6mm) off the pan.
7.
The pump will speed up when the oil has been removed. An average 5 Quart (5 liters) oil capacity engine will take around 10 minutes to drain.
8.
Switch off pump before removing alligator clips from the battery, to avoid sparks.
9.
Remove probe from dipstick tube while wiping with a rag to prevent oil drips.
10.
To empty the container, unscrew the pour cap and pour the oil into a suitable container for disposal/recycling.
11.
For extended storage, flush pump with water based degreaser solution.
Details
| | |
| --- | --- |
| Brand | Jabsco |
| Item Weight | 10 lbs |
| Made In | China |
| Manufacturer | Xylem |
| Manufacturer # | 17860-2012 |
| Part Number | 17860-2012 |
| | |
| --- | --- |
| Shipping Dims | 20" x 12" x 12" |
| Shipping Weight | 11 lbs |
| Size | 3.5 Gallon |
| Type | Oil Changer |
| UPC | 671880566803 |
| Warranty | 1 Year |